From Bro. John O'Malley: I am using this company to help me with the editing of my next book. I'm very pleased with them and their work. I know these people personally, and think their services could be a help to many of our missions family.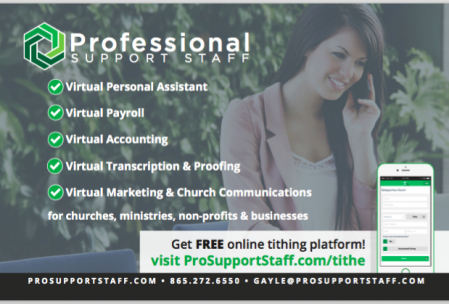 Has the thought, "I could really use a secretary for this," ever crossed your mind? Perhaps you needed someone to edit your prayer letter, call a church back for you, schedule a meeting, find the cheapest rates for traveling and file an itinerary for you, send out that thank you card, or maybe you just needed a way to remember the message you preached at a certain church on your last furlough.
Pro Support Staff can help you with this and so much more! At Pro Support Staff, you can hire a qualified, Independent Baptist ministry assistant who not only has experience serving in like-minded ministries, but has been trained and certified in multiple software and administrative techniques. But even with all this experience, each PA (Professional Assistant) begins by going to the Lord in prayer and asking for His enabling as they seek to help you in the ministry God has given you. We can design, manage your website, blog or social media accounts, help you through that doctoral degree you have been working on, and even help you set up a free platform that allows ministries and individuals to donate money to you.
You can find out more on our website: www.prosupportstaff.com, or give us a call at 865.272.6550.